The "Local Search" Challenge
Many businesses invest in their website, only to find that before people even get there, they are turned off. A potential customer will search the name of your company, and before they see your website, they will see the "local search" results for your company name. This includes the map of your location, a photo that Google has selected, a business category, your hours and perhaps some online reviews.
That information is part of Google's website, not yours, and it can challenging to change and improve it.
We at SiteInSight are willing to spend the time and personal attention it takes to coordinate with you and your team to help you get control and editing power for the information Google shows about your business. Many small business have big problems with online listings. For example, often a small business starts out in someone's home, and they don't want to list their home address, so they use a friend's address or a post office box. This can make it difficult to "claim" and edit Google's information about your business, and it might eliminate you from showing up in map searches entirely! That's just one example of a challenge we can eliminate.
Another common challenge comes from the ability of Internet users to suggest changes about your business. Anyone, anywhere searching the web can suggest to Google that your hours are different, your business category should be changed, or you have closed your doors for good. It's critical to be notified when these suggestions are made so you, as the business owner, can accept or reject the changes.
Finding A Solution
In some cases, you as the business owner have created your Google My Business listing, and you monitor it and receive alerts when you have a new review or a suggested change. You are able to log in and respond to these alerts.
For most businesses, the process is too complicated and changes too frequently, and they already have enough passwords to remember. In this case, it's best to have professionals like our team at SiteInSight manage it for you. We'll always make sure you are the owner of your listing and you have access if you need it, but we will handle the day-to-day management and keep your business looking great when your potential customers are searching for you.
Your digital presence is as foundational as your business's signage.
If one of the letters on the sign for your store burned out, you would fix it immediately. Not only does it give a bad impression, it also might change the word and spell something inaccurate. If the letters "D" and "Y" in Dynasty Buffet burned out, for example, that restaurant would have a real problem! They would be up on a letter fixing the lights immediately!
The same is true of inaccurate or negative information appearing about your business when someone looks for your contact information online. It needs to be monitored constantly and problems must be addressed immediately.
Three Factors Drive Local Search
1: Consistency
Consistency results in high confidence (and higher ranking) for consumers and search engine crawlers. Inconsistency results in low confidence, which decreases search ranking and risks lost business.
To understand why, look at the images below: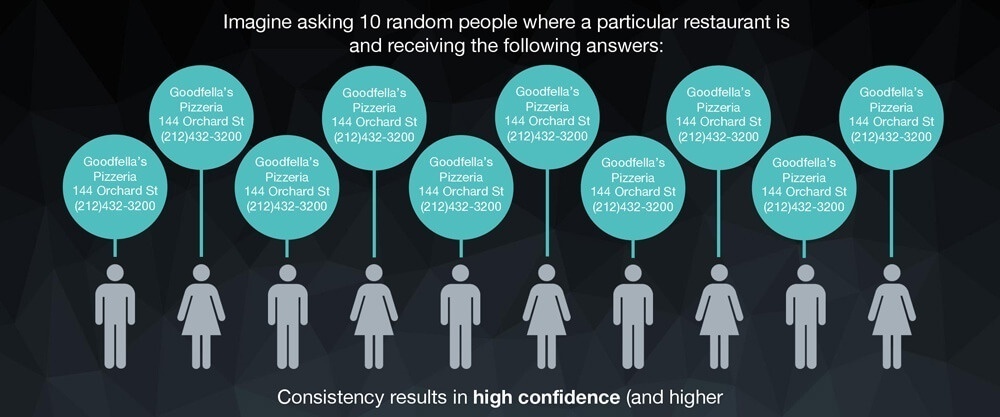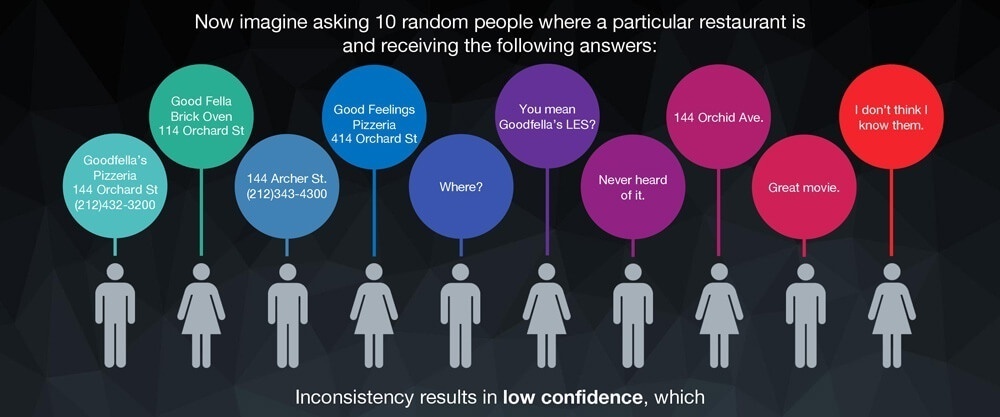 The same is true when search engines look for contact information about your business. If it is consistent across many web sites, the search engine will feel confident and will display your company's information high in the results. If it is different and uncertain, your competitors will be prioritized above you.
2: Authority
Information needs to come from sources your customers and search engines trust. Yelp, Google, and Yahoo have respectable reputations and are popular sources of information. If all of the largest and most popular sites have the same information about you, this will improve your ranking.
3: Number
Large quantities of consistent data matter.  For the average business, online listings change every six days for name, address, and phone number because there are dozens of websites that provide directories and businesses, and many of them receive the information from old or incorrect public records.
In order to keep your information correct and consistent on all of these sites, you need a system. We provide that for you, and send a report each month showing that we've maintained your correct information across more than 70 websites. It's like insurance for your business' signage – except the signage is online instead of on your building.