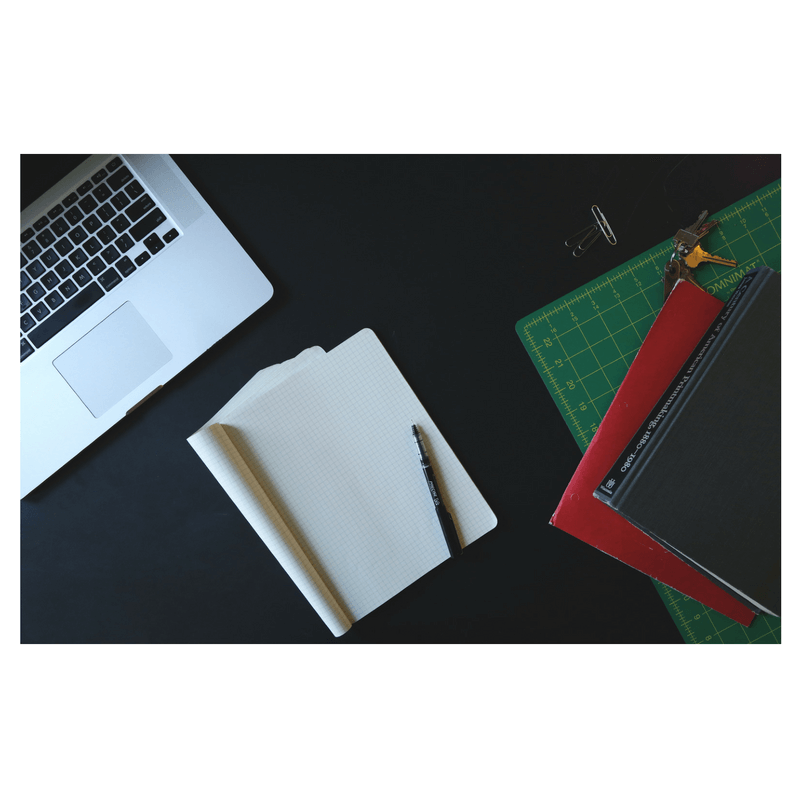 What is a Blog and Why Do I Need One?
February 8, 2017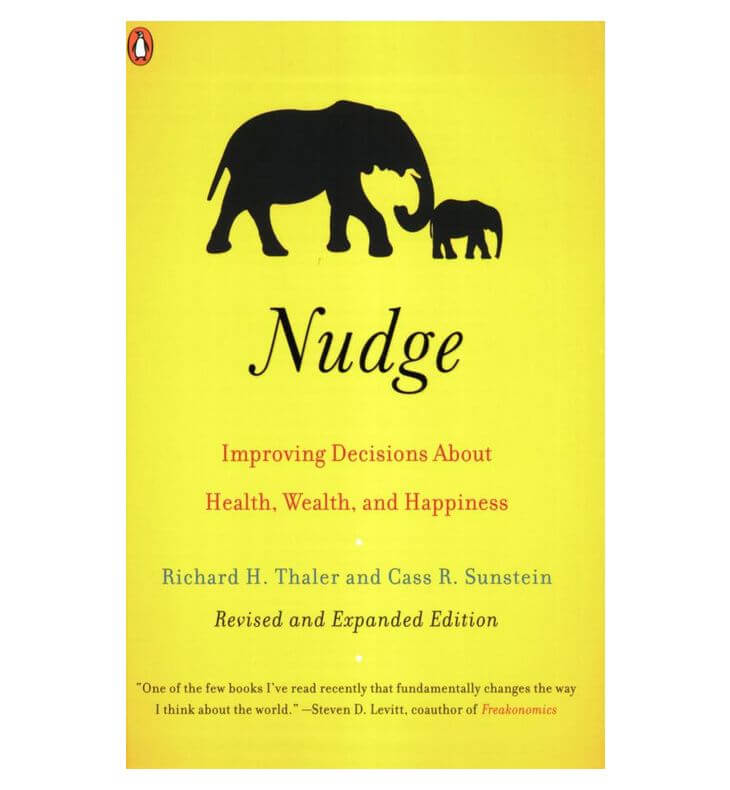 What We're Reading: Nudge
March 2, 2017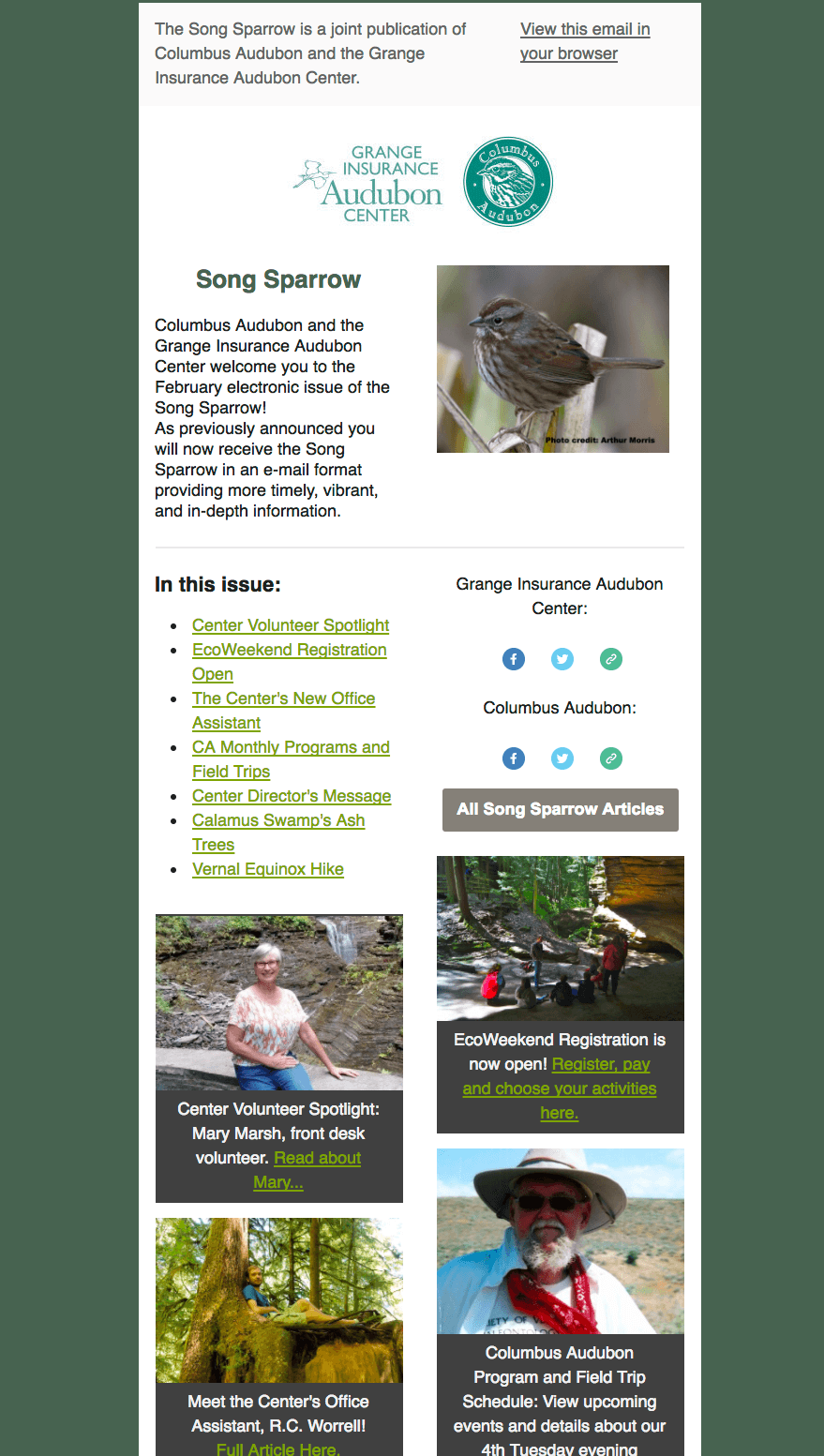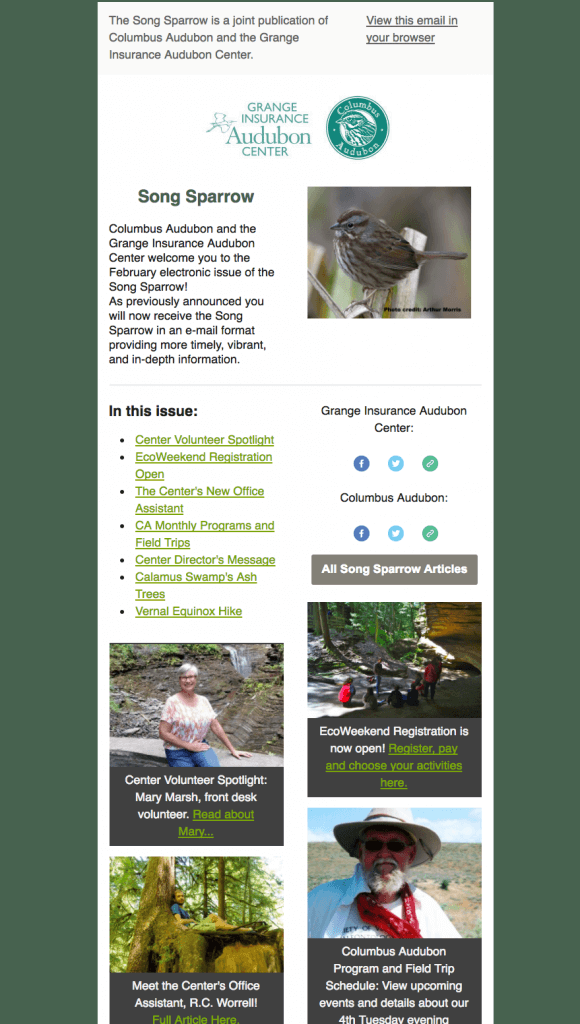 Historically, the Columbus Audubon (a volunteer-run birding nonprofit) and the Grange Insurance Audubon Center (the downtown nature center) have collaborated to publish a paper (and PDF) newsletter called the Song Sparrow. The content was fantastic, but the cost of printing and mailing the newsletter became too much.
Fortunately, both organizations recognized that exporting and emailing a PDF of the old printed publication was a bad idea for a few reasons:
The work of laying out the pages would be time and expense that is artificial – the newsletter doesn't need to be "built" on pages if it's going to be digital.
PDFs are not a great way to deliver news content these days. Many people read their email on smartphones or tablets, and don't want to pinch and zoom and scroll all around a PDF to read an article. Even those reading email on a computer may be rushed and disinclined to open an attachment. They would prefer to see the selection of articles as soon as the email opens, so they can decide whether to read more.
The old publication was black-and-white, and the new digital delivery would allow for a whole new look and layout, if given the freedom to break from the past.
E-newsletter Design
SiteInSight was brought onto the project to create a lively, visual newsletter with a clickable table of contents and an easy way to access the jointly written content. Some of the challenges that occurred were technical, but others were organizational. For example, merging email lists from the two organizations into a single mass email list with a single email blast provider was a project we helped facilitate. In addition, articles are contributed separately by each organization, and some of the articles are already published in full on one or the other of the websites. (Each has its own website.)
We were able to navigate the branding standards and collaboration, and produced what we think is a great-looking email newsletter.
Happily, we weren't the only ones who thought so. The organizations received positive feedback from readers, who enjoyed the attractive layout and easy access to read articles of interest with a single click.